HOME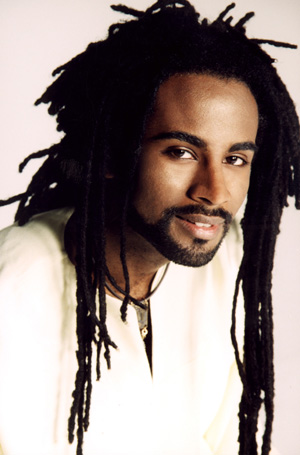 Model: Chris
Photographer: Kevin Mapp
Wardrobe: Mashood
Wash
Wash your hair twice a month using two different cleansing methods, the dry cleaning method and the water and soap method.

The no water dry cleaning method (scalp cleansing) - The water-free dry cleaning method (scalp cleansing) - Use an astringent (for example Sea Breeze) to remove build-up from my scalp. Dampen the cotton ball with the astringent and wipe the scalp. Repeat this method until the cotton ball appears unsoiled with oil and dirt. Next, apply shea butter or lanolin to both the scalp and locks. Shea butter and lanolin perform dual rolls, as moisturizers and conditioners

The water and soap method. The water and soap method. Give your locks two washes. I don't have a name brand preference for shampoos. I just like it to be natural. Section locks off and squeeze (like you are wringing out a towel). Get as much water out as you can. Twist the new growth. After twisting each section, clamp, or secure hair with a scrunchy, (not a rubber band) and let air dry.

Condition
Conditioning is a very important step. It helps to give the hair shine, body and overall it keeps your locks looking healthy. A hot oil treatment once a month or once every two months with olive oil, shea butter and castor oil is all that's necessary. The goal is to keep the scalp and hair as healthy as possible. You have to remember that locks are matted, dead hair and if you are not really careful it can turn into a dirt magnet.

Sleep
Cover your locks with a silk scarf or cap, especially if you sleep on a cotton sheet. Cotton sheets can rip the hair and absorb moisture, causing damage and premature breakage. It becomes more important to wrap the hair the longer it gets to keep it looking nice and healthy.

Root support
I personally like to twist it at the roots when it is wet. That way I can get the fresh growth and twist it around. By doing this the locks grow and stay even. They don't get matted together, so you won't have four and five real big locks. Do not get in a nervous habit of over twisting your locks. Over twisting locks will cause thinning. The longer your locks get the more gravity effects it. As your hair gets longer you want to combine individual locks in-groups of two or three. Provide strong healthy root support. If you show your locks love, they will love you back.